Fire Extinguisher Training for Your Employees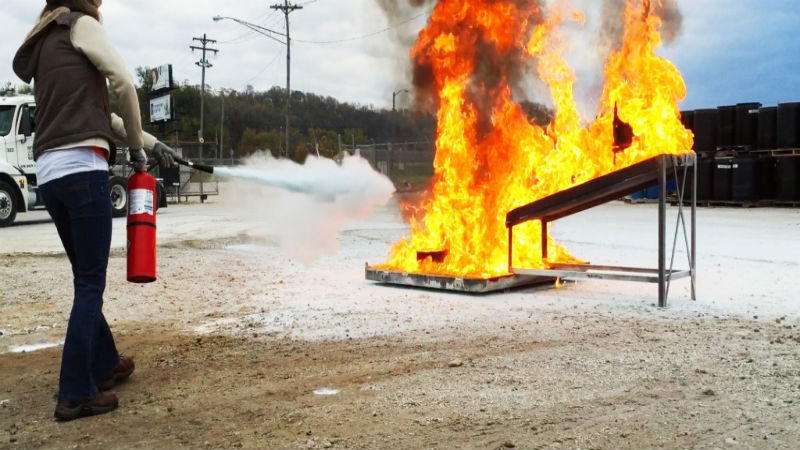 Every facility or building must possess the proper portable fire extinguishers according to law. These extinguishers are to be accessible for use when a fire emergency occurs. However, as a business or organization it is also necessary that your employees understand and know how to use these extinguishers effectively. This type of information and skill set can be derived by your workforce through the application of professional fire extinguisher training.
Required Training
It is only sensible to have your employees trained to properly use these fire extinguisher devices. However, the National Fire Prevention Association requires this training. Employers are mandated to have portable fire extinguishers on hand as well as educational programs to help employees gain the knowledge and familiarity they need to use fire extinguishers properly with regards to various potential fire emergencies. This training is required at the onset of employment and going forward on a yearly basis. In certain local jurisdictions, training may be required more often.
Understanding the Basics
A fire extinguisher training course can teach employees the elementary principles of using a fire extinguisher and what type of extinguishers to use in different situations. The training can give workers confidence about determining the fuel source of a particular fire and how to deal with it effectively.
Any training program should be customized to deal with the actual fire risks your employees may encounter within your facility.
Spotting Fire Risks
Employees must be able to identify risks within their building. There are many different types of possible fire sources. Some fires may emanate from the kitchen area when cooking operations are common. Other fires may have an electrical source. Fires can also be started through an act of arson from the outside of the structure.
An effective fire extinguisher training program will educate employees on the various types of fires in the most effective process to quench those fires and save human life and property. If the wrong extinguisher is employed against a particular fire, the results can be disastrous. It's important to contact an experienced fire equipment company in order to find out how your business and employees can receive the training they need in fire protection.