Popular Options for a Garage Floor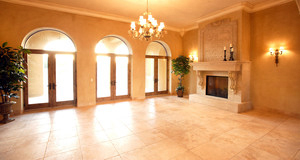 Are you tired of a dull, grey concrete floor in your garage? There is no question that your garage is a versatile space and when you design it right it can provide you with a significant ROI if you ever decide to sell. However, for some homeowners they are unaware of the options that are available to turn a dull and boring garage floor into a great looking, focal point that is functional and aesthetically appealing. Some of the options that are available for decorative flooring for your garage floors are highlighted here.
Floor Mats
You can purchase a roll out garage floor mat, which is considered a higher end option due to the price being a bit higher than the other options. There is very little preparation needed to put in a roll-out mat, besides just clearing and sweeping the floor. You can make any adjustments and trim the mats as needed with scissors, a utility knife or shears. If you have to use two, or even more, large mats, then there are a number of seaming compounds that will create a watertight bond in between the adjacent mats.
These garage mats are extremely durable and quick and easy to install. They will not be affected by brake fluid, road salts, gasoline or any other type of mechanical fluids that may come from your vehicle. The mats are also easy to clean and come in a number of different patterns and colors. The surface of the mats are designed to provide you with a non-slip and secure surface, which is ideal for a high traffic garage.
Epoxy and Paint Coatings
The most economical option for covering a concrete floor is an epoxy coating or paint. There are a number of do-it-yourself kits available that provide excellent results. It is important that you select a high quality kit, rather than the cheapest one and follow the preparation steps completely.
If you do not have time, or just do not want to complete the preparation, you can hire a professional installer to do the work for you, but this will cost much more than completing the project on your own.
When done correctly, you can create a great looking and functional garage floor that is much more interesting than the boring grey that concrete has to offer. These options ensure that the space is still functional, but much better looking, which is extremely beneficial for the value of your home.
Are you looking for a way to add a little interest to your space? If so, consider a decorative flooring option from Dex-O-Tex.